100 Secret Samsung Galaxy Codes You Won't Believe Exist!
Unknown to most, Samsung Galaxy phones have several secret codes embedded within them. In this post, we're going to be making a list of up to 100 of them.
PAY ATTENTION: Read the most interesting Smartphone reviews & tutorials here on Richeetech.
But what's the purpose of these codes, you may ask?
Contrary to how it might sound, it's nothing illegal. In fact, the purpose of these codes are for troubleshooting, to fix bugs and test the phone.
This list of Samsung galaxy secret codes will contain everything from Samsung secret codes for network, engineering mode codes, and much more.
ALSO READ: How To Hide Photos In Samsung J7 (And Never Get Caught!)
To say the truth, most of you reading this may never ever use these codes. I myself will never use these codes. But if you're into advanced mobile development or you're learning more about the functions of mobile phones and stuff, then this is probably like Gold to you.
Here's a funny fact about this post: If you really learn how to apply these codes to fix problems on Samsung smartphones, it could open a whole new source of income for you if you can help people fix their phones without ever needing to tear them apart.
Secret Samsung Galaxy Codes & Hacks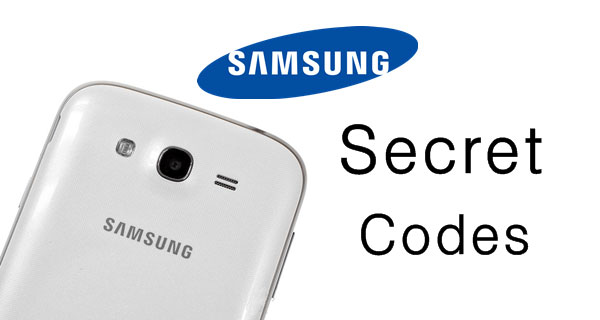 Now, some of these codes are programmed to work for only Samsung devices. If you try it on say, your Nokia or Huawei, it will not work. However, if you're searching Google for Samsung secret codes for your Galaxy J2, A10, Grand Prime, A20, S8 plus, S9 plus, A50 and All, continue reading below.
RECOMMENDED: 5 Times Apple and Samsung Shamelessly Copied Huawei.
IMPORTANT: Buy real, active Nigerian Instagram followers with money back guarantee. Click here now.
A note of warning
So each code comes with a short description of what each code does. I suggest you really, like really read what they do and understand it carefully.
Incidents like data loss or phone reset are very possible so use at your own risk.
Nevertheless, this is way easier than having to ransack through your phone every time you need to do simple tasks like to check software version of your phone and IMEI number.
Secret Codes for all Samsung Galaxy phones
If you use any Samsun Galaxy smartphone (all the way from S2 if you like), you can basically use the following secret codes to check numerous things on your device.
*#12580*369#: To check software and hardware information
*#0228#: To check battery status
*#0011#: To check service menu
*#0283#: To test Loopback
*#0808#: To check USB service
*#9090#: To enter service mode
*#*#4636#*#*: Use to display information about the Phone, Battery and Usage stats.
*#*#7780#*#*: Use to reset your phone to factory settings.
*2767*3855#: Use this to completely wipe your phone and reinstall the phone's firmware.
*#*#34971539#*#*: Use to see complete information about your camera.
*#*#7594#*#*: Use to change how the power button behaves.
*#*#273283*255*663282*#*#*: Use this secret Samsung Galaxy code to quickly backup all your media files.
*#0589#: Use to enter Light Sensor mode
*#0588#: Use to check Proximity Sensor
*#*#232338#*#*: Use to access all Wi-Fi Mac Address
*#*#526#*#*: Use for WLAN network
*#*#1472365#*#*: Use for testing GPS
*#*#1575#*#*: Also use for another test code for GPS testing
*#9090#: Use for Diagnostic Configuration
*#*#232331#*#*: Use to troubleshoot Bluetooth
#*3888#: Use to enter Bluetooth Test Mode
*#*#0673#*#*: Use for audio Testing
#*#0*#*#*: Use to test your device screen
*#*#0842#*#*: Use to check Backlight and Vibration and perform other general tests
*#0*#: Use for General Test Mode
*#0673#: Audible
*#8999*8378#: Use for Universal Test Menu
*#0782#: Use for Mobile Time Testing in Real-Time
*#0842#: Use for Vibration Motor Test
ALSO READ: How To Start A Tech Blog And Make Money Fast
Samsung secret codes for network
If you need to use a code to check the network status of your Samsung Galaxy phone simply used the following USSD codes:
*7465625*638*#: Use to customize MCC/MNC Network Lock
#7465625*638*#: Use to Insert Network Lock and conduct network data locks
*7465625*782*#: Use this code to customize Network Lock NSP
*7465625*782*#: Use to Insert any Network lock keycode (semi-partiality)
#7465625*77*#: Use to Insert Network Operator
*7465625*77*#: Use to Network Lock SP
*7465625*27*#: Use for Functioning and Network Lock for NSP/CP
#7465625*27*#: Use for Network insertion of Galaxy content provider
*#272*IMEI#: Use for CSC Code of Galaxy S3 to get buyer code
*#2263#: Use to choose the type of your network mode RF Band
Samsung original check code
To check if your Samsung phone is original, use either of the following codes as it's relevant to you:
Dial *#*#4636#*#* to get Your Device Info
Dial *#*#2222#*#* to view Firmware hardware version
Dial *#12580*369# to check hardware and software info
Dial #*#8377466# to check All Hardware and software version of the device
Samsung secret codes to unlock & lock SIM
If you want to be able to lock and unlock your SIM card without needing to dig through your phone settings for it, simply try the following codes:
#0111*0000000#: Use to unlock your SIM
#7465625*28746#: Use to turn on Auto SIM Lock
Samsung codes to restart your phone
In order to restart your Galaxy phone without needing to hold down the power button, simply input either of the following USSD codes and watch the magic happen:
Dial #*3849#
Dial #*2562#
Dial #*3876#
Dial #*3851#
Now your turn
Did you find the specific code you were looking for? If you didn't kindly type it in the comments section so we can update this post with the information you're searching for.
Related Posts
IMPORTANT: Buy real, active Nigerian Instagram followers with money back guarantee. Click here now.